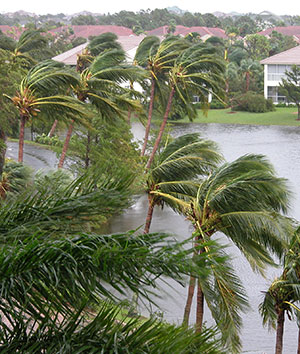 When you live in a hurricane-prone area of the country, one thing you probably think about is how the next storm could affect roofing repair services. It is good to be thinking about that, as there are certainly some challenges involved. The first thing to know is that, when there is widespread damage, it leaves area roofing repair materials and labor stretched thin. You wouldn't be the only one needing help, so it is possible you'll end up with the temporary measure of a tarp put into place while the area recovers. Done correctly, this provides the protection you need until permanent roofing repair can be scheduled.
The next thing to know is that being in a hurricane-prone area makes it more important to have your roofing checked before a predicted storm and get any issues resolved. The stronger your home's roof is, the less likely you'll need roofing repair due to the storm's wrath. Yet another thing to consider is that roofing companies tend to flock to the area from other areas of the country after a hurricane and not all of them are qualified or licensed to perform work where you live. Your best bet is to work with a local roofing repair company if at all possible to avoid potential problems. This is yet another reason to have your roofing checked out before hurricane season, as you'll be able to establish a rapport with a company you can then confidently reach out to after a storm.
If you would like to schedule a roofing inspection or discuss whether your home needs roofing repair services after a hurricane, reach out to us at Jacksonville Roofing USA. Our team has more than 40 years of experience and our owner is hands-on to ensure you get the best possible service for all your roofing needs.