Turn to our roof repair contractors whenever you need help with roof damage—we will provide the effective solutions you need.
If your roof has been damaged, you will need the help of experienced roof repair contractors to restore it to its proper condition, as working on roofs requires specialized experience and is not something that makes for a good DIY project. Fortunately, our team at Jacksonville Roofing USA is here to take care of all your roofing needs. Our technicians have a combined total of over 40 years' experience in the industry, and you can count on us to provide the effective repair services you need.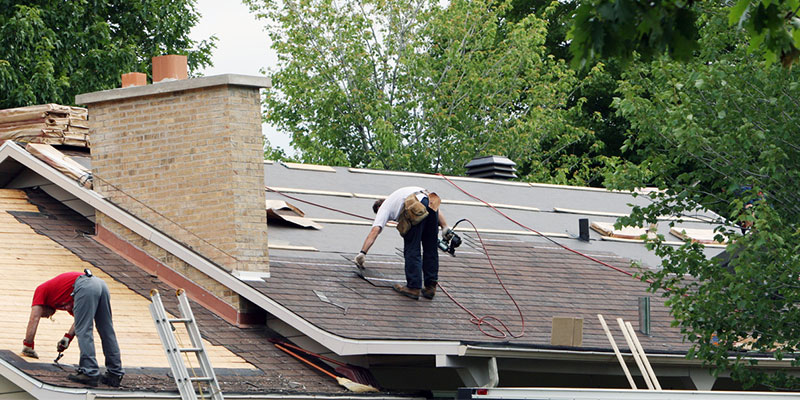 Over the years, our roof repair contractors have seen all kinds of roof damage, and we can accurately identify what's wrong with any roof and come up with the ideal solution to correct the issue. Whether your roof has been seriously impacted by a storm or simply experienced normal wear and tear over time, you can count on our technicians to provide the effective solutions you need to make your roof as good as new. We will thoroughly inspect your roof to identify any and all problems, come up with an effective plan for correcting the issues, and complete the necessary repairs to restore your roof to its proper condition.
Our team of roof repair contractors is committed to providing a high level of customer service in all we do. We pride ourselves on being diligent in our work and conscientious in our communications with our clients, and we make it easy to get in touch with us whenever you have questions or need to discuss your roofing needs. Our team is also happy to provide the answers to any questions you may have, so you can understand what needs to be done and why.
When you call our team for roof repair services, you can rest assured that we will get the job done right the first time. Not only do our technicians have extensive experience in the industry, but our owner also takes a hands-on approach to leading this team and will personally oversee the repair efforts to make sure everything is done properly.
Our team offers high-quality workmanship, and we will make sure to double check our work at every step of the process to ensure you get the top-notch results you deserve. We pay close attention to every detail in order to deliver exceptional results on each and every project. In addition, we make sure to work efficiently so that you can start enjoying your newly repaired roof as soon as you can.
We are proud to serve the community here in Orange Park, Florida, and we want to help you keep your roof in great shape. Our team has the right experience to repair just about any type of roof, from standard asphalt shingles to metal panels to clay tiles and even cedar shakes. If your roof has been damaged in any way, just give us a call to get our expert roof repair contractors on the job as soon as possible.
---
At Jacksonville Roofing USA, our roof repair contractors serve customers in Jacksonville, Orange Park, St. Augustine, Middleburg, Lakeside, Green Cove Springs, and throughout Clay County, Florida.