Get a metal roof that lasts with our metal roofing contractors!
A quality roof is one of the most important things that you can give your property! Whether it is your primary residence or a business, a good, long-lasting roof is going to provide you with a shield and protection for everything inside your property. Shingle and asphalt roofing can last anywhere from 10-20 years, depending on the area and the weather, which is a reasonable amount of time. However, if you experience severe weather and are looking for a more solid investment in your roofing, metal roofing is the way to go! Metal roofs can last anywhere from 40+ years and upwards, ensuring that your investment over the long term is going to be much better. That being said, metal roofs need to be installed correctly. Here at Jacksonville Roofing USA, you can count on our metal roofing contractors to give you the quality roofing that you want for the long-term investment you need.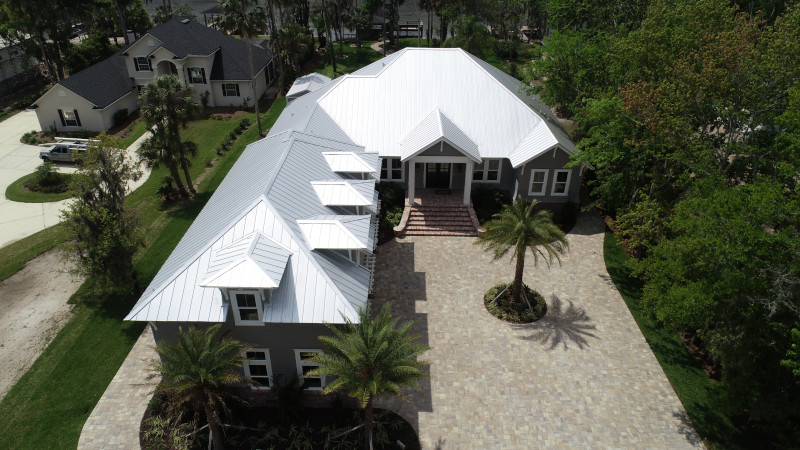 When you work with our metal roofing contractors, you will find that we deliver on quality metal roofing each and every time! Because we have been working on all different types of roofing for over 40 years now, you can count on us to deliver on quality, especially when it comes to something as essential and integral to your property as a metal roof. Our metal roofing contractors know the importance of roofing that can withstand the heat and storms that face Jacksonville, and we have adjusted our roofing installation services and abilities accordingly.
If you would like to learn more about metal roofing or would like a free estimate on our services, please call and speak to one of our metal roofing contractors today!
---
At Jacksonville Roofing USA, our metal roofing contractors serve customers in Jacksonville, Orange Park, St. Augustine, Middleburg, Lakeside, Green Cove Springs, and throughout Clay County, Florida.